An Ultimate Guide to Schengen Visa Requirements from UAE: Must Read Before Planning Your Europe Trip in 2023
If you are planning a Europe Schengen trip from UAE, you are in the right place to get all the necessary information. Before applying for a Schengen visa from UAE, it's important to understand what the Schengen Area is and the Schengen tourist visa requirements for UAE residents.
The Schengen Area is a group of 27 European countries that have abolished passports and other types of border control at their mutual borders. This means that once you enter one Schengen country, you can travel freely within the area without additional visas or border checks. However, if you are an expat in the UAE with a valid residence visa, you need to apply for a Schengen visa before traveling to any of these countries.
Note- UAE citizens do not need to apply for a Schengen tourist visa from UAE for a short-term visit to Europe.
Schengen Countries List 2023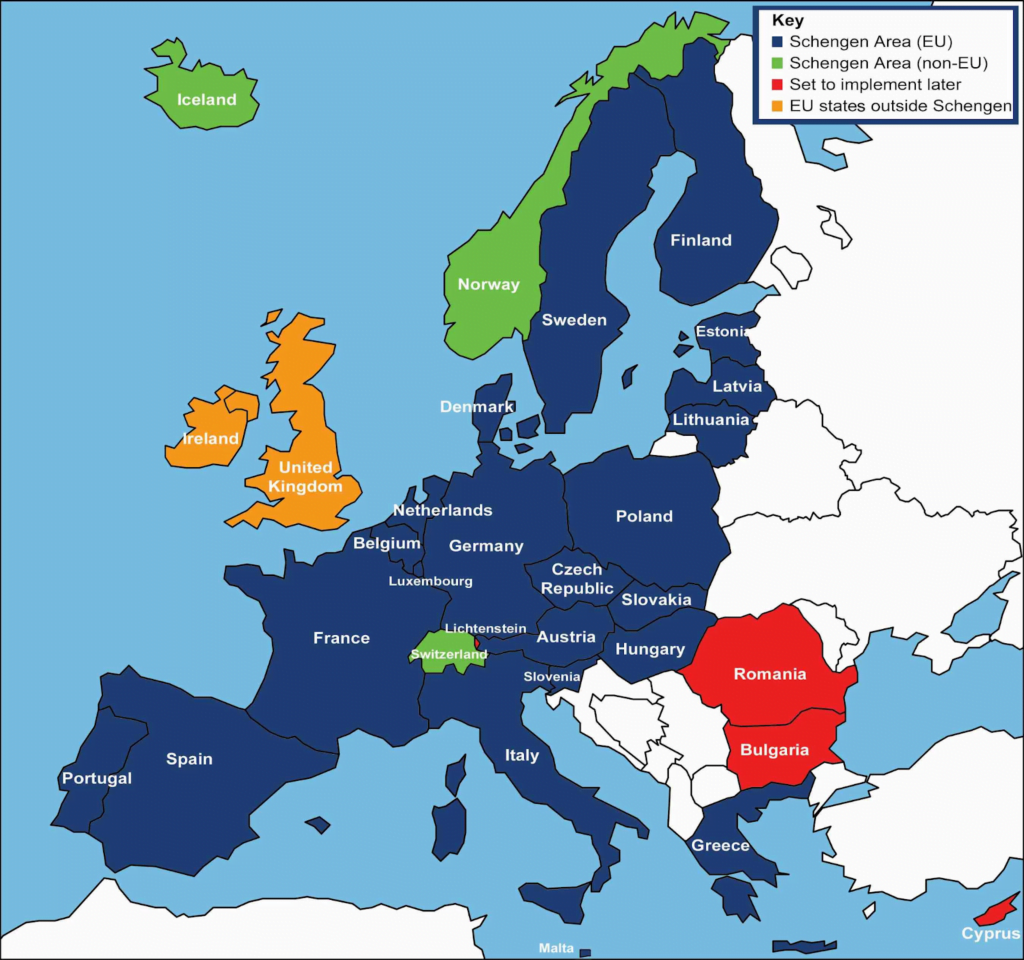 Understand The Schengen Area:
Which European countries come under the Schengen area?
Austria, Belgium, Croatia, the Czech Republic, Denmark, Estonia, Finland, France, Germany, Greece, Hungary, Iceland, Italy, Latvia, Liechtenstein, Lithuania, Luxembourg, Malta, the Netherlands, Norway, Poland, Portugal, Slovakia, Slovenia, Spain, Sweden, and Switzerland these European countries are included in Schengen area.
Which Eu Countries Are not yet part of the Schengen Area?
Bulgaria, Cyprus, Ireland, Romania, and the United Kingdom are EU states that are not, or not yet, part of the Schengen area. This means that a flight from one of these states to a Schengen state is regarded as an external flight subject to border checks.
Which Month is Best for Europe Schengen Tour from UAE?
Europe is basically a year-round travel destination, but the best time to visit Europe is during the summer months of June to September. This is the time when the sun is high, the beaches are warm and the weather is sunny. So, plan your trip well in advance.
Checklist of Documents Required to Apply for Schengen Tourist Visa from UAE
Application form fully completed with correct and honest information. 2 copies of the form signed at the end.
Passport photograph

Recent passport-size pictures x2 (not older than 6 months) with white background, complying with EU
recommendations.

Original Passport

The passport shall be valid for at least 90 days from the date of expiry of the requested visa.
The passport shall contain two blank pages at least.

Photocopy of the original Passport
UAE Residence Visa

Valid three months beyond the intended date of departure from the territory of the Schengen Member States.

Official Bank Statement – Evidence about financial stability to know whether the applicant possesses enough money to support themselves financially till the end of their stay in the Schengen Area.

Last three-month/six-month updated bank statement of the account.
The Bank statement should be stamped by the bank.

No-Objection Certificate originally signed/stamped.

NOCs issued by the employer must be signed & stamped, including the complete name of the signatory, and position in the company.
For BUSINESS OWNERS (Partner) /self-employed persons; Commercial Trade License is MANDATORY and the NOC is stamped & signed.

Travel Medical Insurance – a document that proves that the applicant has health insurance for the complete Schengen area with a coverage of 30,000 euros in need of any accidents, medical emergency, or repatriation in the case of death.
A copy of the Tenancy Contract or Title deed. In case the applicant does not have a tenancy contract or is living in a shared accommodation, a letter of explanation is required.
Return flight ticket reservation.
Travel Itinerary of the whole trip – a document that permits an applicant to reserve a flight ticket from UAE to Schengen and back to UAE which possesses the correct dates to enter and leave the Schengen area.
Proof of Accommodation/ Hotel Reservation – a document which proves where the applicant is getting accommodated for the entire visit in Schengen. This may be a booked hotel or rent agreement or it can be an invitation letter from the host where the applicant stays.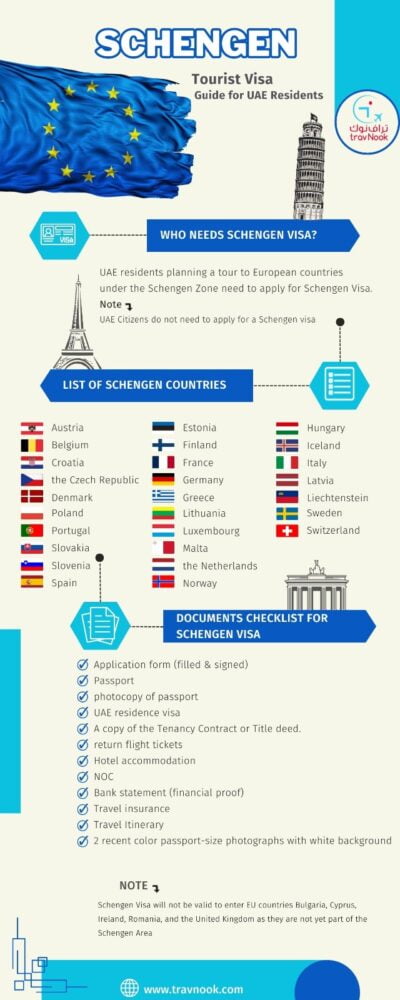 Frequently Asked Questions about Schengen Visa
Q: What is Single Entry Schengen Visa?
A: Single entry Schengen visa is Valid for entry to the entire Schengen area, for up to 90 days within a 180-day period. "Single entry" means you are allowed just one entry into the Schengen area. If you leave the Schengen area for whatever reason, your visa will be considered as utilized and therefore rendered invalid thereafter. For tourists mostly a single entry visa is issued.
Q: What is the difference between single-entry and multiple-entry Schengen visa?
A: With a single-entry visa, you can enter the Schengen area only once. Whereas a multiple-entry visa allows for several entries during the validity of the visa.
Q: What are the most visited countries in Schengen by tourists?
A: The most visited Schengen countries are Germany, Italy, Spain, and France.
Suggested Read: Top 10 Most Visited Schengen Countries in Europe
Q: Which is the easiest country to get a Schengen tourist visa from UAE?
Luxembourg
Q: Which is the hardest country to get a Schengen tourist visa from UAE?
A: Belgium
Q: Do my kids need a Schengen visa?
A: All travelers, including children, must have a visa to enter the Schengen area.
Q: What is the Schengen visa fee in UAE?
A: The visa fees is 80Euro (Approx. 310AED)
Appointment fees & our service fees, differentiate from one embassy to another, starting from AED750
Q: How much is the processing time for a Schengen tourist visa:
A: The process usually varies from one nationality to another as well as the travel history of a person, it can go as little as a couple of days to three to four weeks.
Q: Can I apply for a Schengen visa without a bank statement?
A: No, a bank statement for 3 months or 6 months is mandatory to apply for a Schengen visa. Otherwise, your application will get rejected by the embassy.
Q: How to get the fastest Schengen visa from Dubai?
A: Unfortunately, there's no way to speed up the process beyond the 15-day Schengen Visa processing time. However, you may be able to avoid delays by ensuring your visa application is clearly and honestly filled in, concise, and easily explainable alongside your other supporting documents.
Q: Do I get a refund if my Visa gets Rejected?
A: Following the opening of your visa file and submission of your visa application, all payment made to the consulate or embassy on your behalf is non-refundable, no matter whether your visa is approved or not.
Q: Why was My Schengen Visa got rejected?
A: Some of the common causes of Schengen visa rejection are missing or incorrect documents, not enough money to cover your trip, or a lack of travel purpose.
Suggested Read: Top 20 Reasons For Schengen Visa Rejection
Q: How to Apply for a Schengen Tourist Visa in UAE?
A: We at Travnook Travel and Tourism, a travel agency in Dubai, provide consultation to get a Schengen tourist visa for UAE residents. Call or WhatsApp our agents to start with your application.
Q: What is the role of the travel agency if I can apply Schengen visa to the embassy or consulate?
A: Travel agencies like Travnook provide consultation for Schengen visa applications. They help an applicant to guide the complete application process including required documents, form filling, trip itinerary, travel insurance, flight and hotel bookings ensuring the highest approval rates by an embassy.
Q: Is it easy to get a Schengen tourist visa from UAE?
A: It totally depends on the Schengen state you plan to visit and the nature of your stay. As a UAE resident, you need to thoroughly understand the Schengen tourist visa requirements from UAE and fill your application honestly.